Hello you all

how are you?
I hope that super fine and shiny and fantastic. I'm havien some gloomy days and today was specially sad. When I'm feeling like this something strange always happen. Once I had an accident today I had another one, it was almost nothing but it made the rest of my day a big amount of infinite sadness. I swear I braked my bike but I ended up crashing a car at the end... nothing happened. This is hard to explain in english so I will write it in spanish... choqué y mi manubrio quedó un poco torcido... ahora es rarísimo andar con el manubrio medio ladeado y me raspé un poco la pierna. Fue casi llegando a la universidad. Llegué mega deprimida por haber cometido un error tan idiota y me quedé triste. Sentí que fue una reacción rara de mi parte pero supongo que me sentí un poco tonta. Apart from that, the rest of the day I suffered from a terrible stomach ache which tends to happen whenever I feel sad. The other strange reaction I tend to have is to be cold... I feel like a freak.
So, this week we are having a workshop. Obviously I didn't want to participate because I tend to be shy whenever it comes to work with work with strangers. It was an obligation for me because... "es obligatorio para el taller en el que estoy (de arquitectura)". We had a strange lunch, like a roman feast, I swear, and my stomach felt worst with that e_e... and we are leaded by a foreign teacher which came to be nice to work with. The good and happy part of the day is that he sent us an email thanking us for participating today in the activity we had. I think that little email made my day ;_; now I can't leave the group

so I will try to give my best. Let's hope I don't crush again.
Oh and by the way, I was doodling yesterday...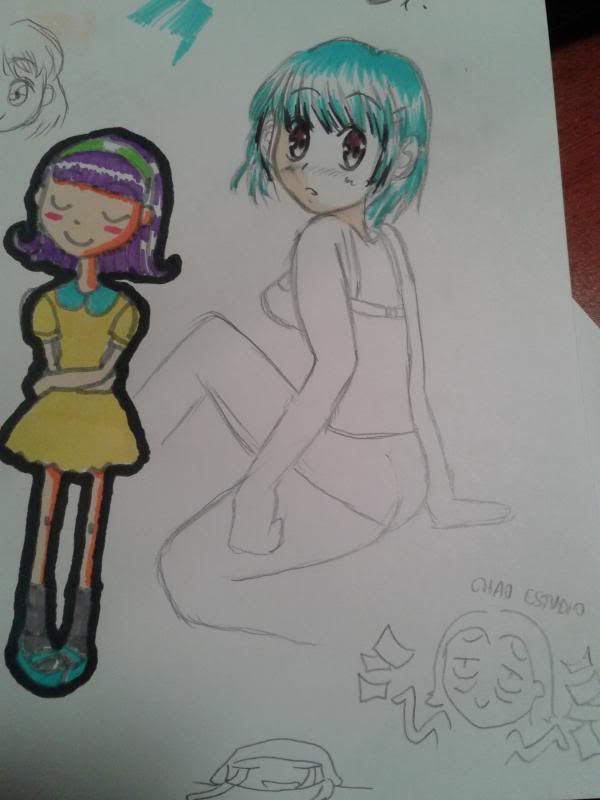 So yeah, I draw semi naked girls instead of reading my Foucault's text... WHO WOULDN'T 8D
And the other good thing in my life is called "Arular"... slowpoke should be my second name. Now I'm hearing it all day long, it makes me soooo happy

Thanks for reading if you read this. Please let me know <3